Campaign Bootcamp held its last ever Communities of Resistance event
The day was a celebration for the community
Community members from up and down the country joined us for the last ever Bootcamp celebration on Thursday 3rd Feb, via Zoom. 
We had people from our first ever Bootcamps, to our most recent trainings like Age Activism and Rooted in Resistance, join the day. Lots of folks came dressed in their Bootcamp t-shirts too (we even had an outfit change mid-way through, with trainer Grace's UNPACKED shirt getting a show!).
The agenda was a packed one as we focused on the four c's that create our training methodology – care, community, challenge and creativity.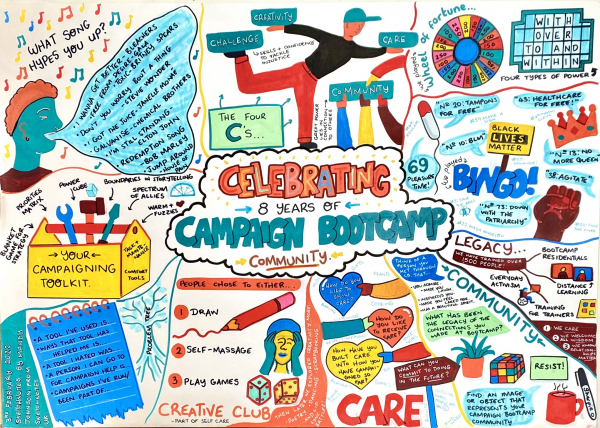 Sketchnotes UK provided us with live illustration
To start off, we hosted a campaign-themed Wheel of Fortune which got, in the words of a Bootcamper, very spicy. Two folks even ended up guessing words without any letters! (Props to the trainers, those skills have definitely stuck with people!)
Activist bingo also returned, with Bootcamp facilitator Nim leading the charge, and trainer Josh taking over the reins from Sheri's announcer role from our last Communities of Resistance. 
Throughout the day, we were adding to a digital scrapbook of memories, photos and words for the community.
So many heartwarming stories and words were shared about their experiences and how Bootcamp has helped in "building community" and "giving the confidence to go out and keep trying".
Later on in the afternoon, folks talked about objects that reminded them of Bootcamp, from training certificates, to personal cards, and a handmade protest sign. 
It was a powerful showing of community. Even in the midst of the pandemic, and not being able to run trainings in person, we've been able to foster a warm and supportive environment online. 
To wrap up, we brought back our iconic lip sync battles with groups taking it in turns to strut their stuff. (Who knew they could be so well coordinated on Zoom?)
As we wind down, we couldn't be more grateful and honoured to host the last ever Communities of Resistance under Campaign Bootcamp. 
We were really proud to share this space with folks, in love and joy we've come to know so much from the community.